Name: Sales Department
Tel: 0086-596-2182612
Fax: 0086-596-2182612
Mobile: 0086-133-5837-5100
E-mail: [email protected]
Add: No.1-3,Fanghu West 2nd Road,Huli District,Xiamen,China
whatsapp: +86-133-5837-5100


Products
>
Dermabrasion
>
> 7 in 1 facial rejuvenation RF+Hydro Dermabrasion+facial peeling with skin analyzer
Product name : 7 in 1 facial rejuvenation RF+Hydro Dermabrasion+facial peeling with skin analyzer

Product No. : EB-O1-1
Details:
7 in 1 facial rejuvenation RF+Hydro Dermabrasion+facial peeling with skin analyzer
The intelligent skin management system is to collect facial skin images through 10 million pixel high-definition micro-range camera combined with three-spectral imaging technology, through intelligent diagnosis and analysis of artificial intelligence core engine,8 dimension detailed items to detect skin problems, and according to the diagnosis results,recommend professional skin care products. Combined with the techniques of" ultrasonic facial peeling ","hydro dermabrasion "," nano atomization "," ultrasonic wave "," gold radio frequency "," ice repair ", this machine can help beauticians comprehensively manage the skin, as well as combine the results of AI skin diagnosis with skin care products or skin care treatment. It is a very good combination of skin analyzing,multi-functional skin care/skin management.
1) Multi-function integration: this machine combines skin analyzing, skin product recommendation, basic beauty care, cuticle cuticle cleaning, deep cleaning, deep hydration and nourishing, anti-aging maintenance, sedation and repair functions,facial rejuvenation.
2) High comfort: the handle appearance design conforms to the human body engineering mechanics principle, the material skin friendly feeling is strong, the body feeling is comfortable.
3) Skin analyzing: the core principle is 3 spectrum sampling, AI intelligent skin analyzing, recommendation of skin care production, customization of AI beauty scheme.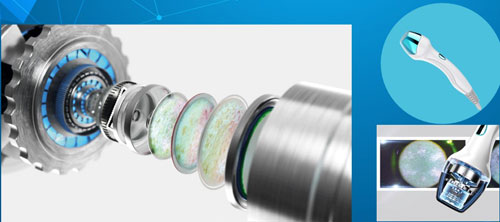 4) 6 systems of skin care and facial rejuvenation:
"ultrasonic facial peeling","hydro dermabrasion","nano atomization","ultrasound radiofrequency","golden radio frequency","ice repair"
Ultrasonic Facial Peeling: to remove excess skin surface oils, remove aged skin,exfoliating.
Hydro dermabrasion:to clean the skin surface and contract skin pores, anti-aging, infusion of skin nutrition, hydration.
Ultrasound radiofrequency: to convert nutrients from macromolecules to small molecules,facilitate skin absorption.
Nano atomization:to replenish the skin's moisture and nutrients
Golden radio frequency :to promote the production of collagen and collagen fibers, contract skin pores,rejuvenate skin,remove wrinkles.
Ice repair:to reduce pores, firm and tighten the skin
Camera detection pen: to detect wrinkles, pores, color spots, roughness, oil content, sensitivity, moisture and acne.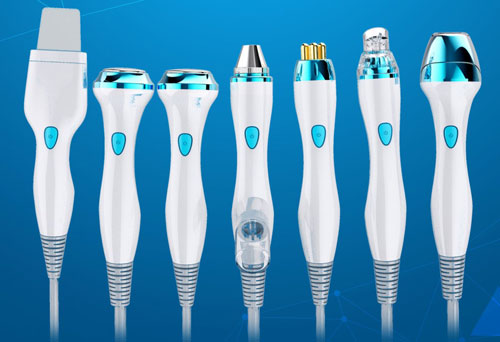 5) simple operation: AI intelligent analysis, convenient operation, easy to use, no surgery, no broken skin, strong safety.
6) 5G cloud interconnect